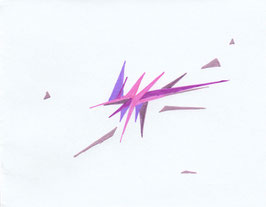 In this channeling the manager of the interdimensional station of the starseed delegation of ant beings introduces himself. He explains his task in maintaining the energetic & structural integrity of the hub by integrating energetic and frequency changes of his team.
A full transcript is provided below the video
Enjoy!
The Ant Being Hub Manager introduces himself
I am the current manager of the hub … My task is to maintain and monitor the balance in our hub. To take care of the structural integrity in these times of energetic changes. You see we are changing, our current starseeds are changing at a very fast rate and they visit us. So, they do transport this change, energetic change right to the hub, which then affects the very integral structure. If that makes sense to you. So, it is relevant that someone is taking care of integrating these changes into the different areas and sections, that we are currently providing and maintaining and to be on the alert if a major structural change might be necessary. 
Group cohesion and its relevance for hub stability
The hub is a very dynamic structure. Its integrity is maintained by the cohesion of the group, by the joint intent and purpose of the group. So, if there are changes in personality, in awareness, in the level of conscious development, this has an immediate effect on the hub as a system.
We do welcome changes. We do welcome them. We as a group know, that to maintain harmony and balance it is relevant to pay close attention to these changes and to help the entire group to become aware of them and integrate them if they want to or to find another way to have those new characteristics expressed. Somewhere else, where it does not affect the environment that is already established.
Frequency changes affect all members of the group - incarnated and non-physical
The energetic waves which are hitting earth are also hitting all the station around the earth like our monitoring station. We are affected by the rise in frequency just as much, maybe not just as much, like our starseeds on earth. So, we are going through our processes here. But our main purpose in this not incarnated state is to be of support to those who are incarnated. So, we focus very much on maintaining balance to be supportive of those currently incarnated. Since there task is a lot more complex than ours.
As the manager of the hub, I am responsible to maintain contact and a close connection to each and every member of the group. To be aware of visitors and their energies and alongside my team to keep an overview of the energetic state of our hub. So, that we can discover energetic leakages or spikes in energies which then, in turn, can be addressed. 
Sensitivity – the key quality of the hub manager
I was chosen for this task because I have a heightened sense of sensitivity which makes it easier for me to perceive even the slightest imbalance. I am intuitive above the average which is also great help when addressing this task I work alongside my team of energetic transmuters, harmonizers and interconnectors for help to get the energetic flow going in case it is stuck to work with leakage and this is mainly done by interconnecting group members and raising awareness and guiding helping to guide focus and energy and attention in therefore energy as our whole construct is establishes from that.